MSU Trademarks
A trademark is a distinctive design, graphics, logo, symbols, words, or any combination thereof that uniquely identifies a business and/or its goods or services, guarantees the item's genuineness, and gives its owner the legal rights to prevent the trademark's unauthorized use.
Trademarks can be displayed in many forms. The list below pairs a type of trademark with a Michigan State example. *Note that these are not the only trademarks registered to MSU.
Word (Michigan State)
Phrase (Go Green Go White)
Symbol (Spartan Helmet logo)
Design (Sparty caricature mark)
Sound (Fight Song)
Color (Green and White)
Group of letters or numbers (MSU)
Examples of university trademarks include any graphic representation relating to the following:
MICHIGAN STATE UNIVERSITY

®

MICHIGAN STATE

®

MICHIGAN STATE SPARTANS

®

GO GREEN GO WHITE

®

IZZONE

™

MSU

™

SPARTANS

™

SPARTANS WILL.

®

SPARTY

®

STATE

™

VICTORY FOR MSU

™
Photographs and artwork bearing the university's name, logo, marks or other references to the university are covered by the licensing program, including reproduction and mass-produced artwork.
The official colors of Michigan State University are GREEN and WHITE.
For reproduction and embellishment purposes, please use the following:

GREEN: Pantone 567C, Madeira: 1103, RA: 2734
WHITE: Pantone WHITE, Madeira: 1000, RA: White
SILVER: Pantone 877, Thread: Silver 31FS
Michigan State logos (shown below) may be reproduced on merchandise in the following colors: Green, White, Black or any neutral color.
Primary University Trademarks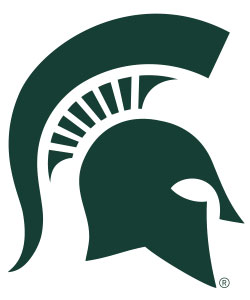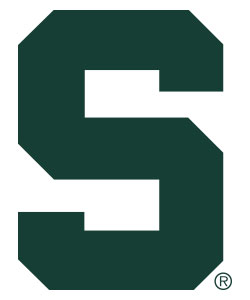 Athletic Trademarks


Other University Trademarks