State Your Loyalty
There at every milestone. How long have you been a loyal Spartan?
Calling All Spartans
There is no substitute for fall on the Red Cedar River, the tradition of painting the rock or the passion of game days in East Lansing with the roar of "Go Green. Go White." And, if you are looking for some new gear to show the world your Spartan spirit, there's also no substitute for buying officially-licensed MSU gear.

By purchasing officially-licensed MSU products, you are contributing to the betterment of the University, as a portion of all licensed product sales goes directly to support student scholarships and student programming. But, if you are buying Michigan State gear from unlicensed vendors or social media sites, you may actually be hurting the University by diverting those funds away from campus.

To educate MSU fans about buying licensed merchandise and how not to get taken by social media sites offering unlicensed spirit wear, the University is asking all Spartans to "State Your Loyalty."

The new brand campaign, spearheaded by Michigan State University Licensing Programs, is designed to raise awareness of buying licensed product and supporting the University. Through in-game videos at MSU sports venues and social media ads, the University is highlighting the importance of buying licensed products. Fans can identify licensed merchandise by looking for the "Officially Licensed Collegiate Products" label, hang tag or hologram to assure the following: 
A portion of your purchase is returned to the University for scholarships and student programming. 
MSU has granted the manufacturer the right to use its trademarks. Use of MSU trademarks without permission is illegal.
Your product has passed through a system of quality control.
MSU fans are encouraged to visit www.stateyourloyalty.com to identify retailers that carry licensed merchandise, share photos wearing licensed Michigan State gear, and State Your Loyalty to Michigan State.
"We worked with our partners at the Collegiate Licensing Company to create the State Your Loyalty program to show real MSU fans sharing their passion for wearing Spartan gear and to reinforce the importance of buying officially licensed products," said Samantha Stevens, MSU's Director of Licensing Programs. "With all the fun, fan-generated content we've incorporated into the video and the social media ads, we hope to reinforce that showing your Spartan spirit can also be a way of giving back to this great University."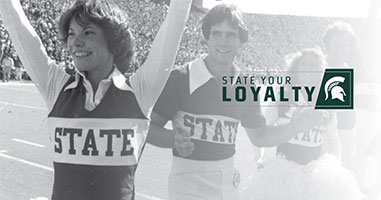 Since the inception of the Michigan State licensing program in 1983, nearly $49 million in royalties has been collected, with another $8 million generated through the successful state of Michigan license plate program, which began in 2001. These vital resources help support scholarships and student programming such as athletic scholarships, international and lifelong student grants and other University scholarships, as well as student programming through the University Activities Board.
"Every time you purchase officially licensed Spartan merchandise, you STATE YOUR LOYALTY to the students of Michigan State," said Rodger Bastien, class of 1979, B.A. Psychology. "That's something every one of us can do."